The Edo State Governor, Mr. Godwin Obaseki, has inspected the ongoing revamp of the Stella Obasanjo Hospital, the Edo School of Health Technology, and the Palm House, all in Benin City, the Edo State capital.
The governor, who was in the company of members of the State Executive Council (EXCO), assured speedy completion of the projects and all other ongoing projects in the State.
Speaking to journalists after the inspection tour, Obaseki said, "The whole idea is that as part of our finishing well agenda, we want to make sure that every project we started as a government is completed. So, we wanted to see the status of these projects under construction."
At Stella Obasanjo Hospital, the governor expressed satisfaction with the level of work done, adding that the facility would be ready for use in no distant time.
According to him, "You saw that we have finished with the Out-patient Department and work is in full gear to complete the in-patient ward and the emergency section. The whole idea is that, having brought down the Central Hospital, we now have a network of Primary Health Centres (PHCs) and the Edo Specialist Hospital. You now have this comprehensive health hub that would compete with international hospitals with up to 12 specializations."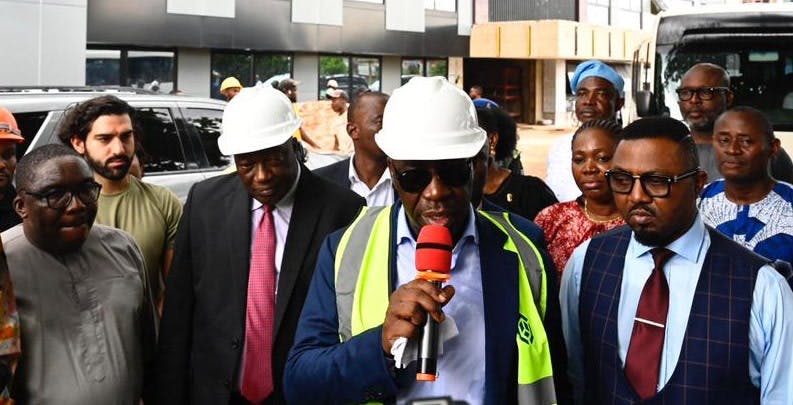 Noting that his government took a deliberate step to revamp the School of Health Technology having met it in a state of disrepair, the governor said, "You know I visited here several months ago and you could hardly believe the state of the school. For any government that wants to render services to the people, the foundation of any health care system is the primary health care system. That is the school that trains and equips manpower to support and service the health care system."
According to him, "We have six specializations, and at any point in time, we would be able to cater for over a thousand students or five hundred for each stream. I am pleased with the progress of work done so far. As I promised, before the middle of next year, these projects would have been delivered."
Obaseki also inspected the Palm House Benin, which is the last project among the series of projects that have been completed at the Secretariat Complex along Benin- Sapele Road, noting that the upgrade was a total overhaul from its former state of disrepair.
Leave your comments below