The Edo State Governor, Mr. Godwin Obaseki, on Wednesday, inaugurated the State's Forestry Commission with a charge to bolster the government's efforts at the conservation, management, and development of Edo forest assets.
Obaseki, at the event, which was held at the Okomu National Park in Ovia South-West Local Government Area (LGA), also unveiled the 10-year Edo State Forest Restoration and Plantation Strategy as well as the Edo State Forestry Commission logo.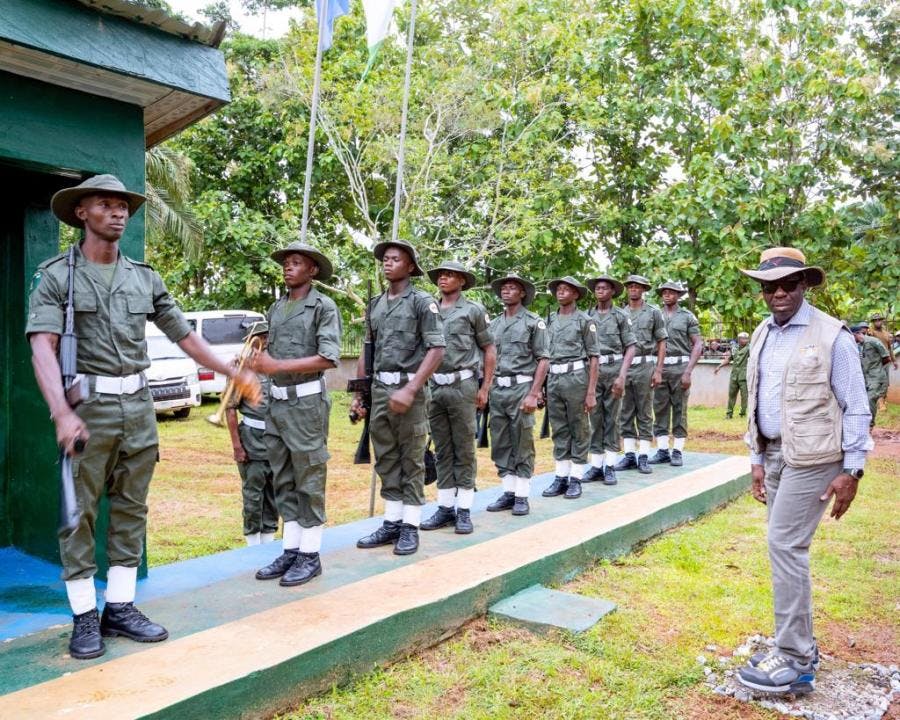 The governor, who decried the loss and degradation of forest lands and forest reserves in the State, said that the Commission was borne out of the need to regenerate State's lost forests and protect the existing forests and wildlife from poachers, illegal loggers and other criminal elements.
He said, "Today's event has multiple dimensions. First, it's about sustainability. If we are going to continue to live on this earth, we must begin to be less selfish not just for ourselves but for the generations to come because if we destroy or consume everything we have, there will be nothing left for the succeeding generations. The second issue is about security. Our forests are ungoverned spaces.
"Today's event is to address these two critical issues. Forest management started here over 100 years ago with a 50-year cycle in the 1920s and 25-year cycle in the 1990s, but I came to find nothing relating to a plan. It was as if we had no knowledge about sustainability.
"As a result of the activity of illegal loggers and so many other malpractices, today, we have experienced a sharp reduction and degradation of our forests. Ovia used to be like a dark alley where you need to put on your headlight during the day but today, the whole place is like a desert. No wonder you experience landslides and erosion."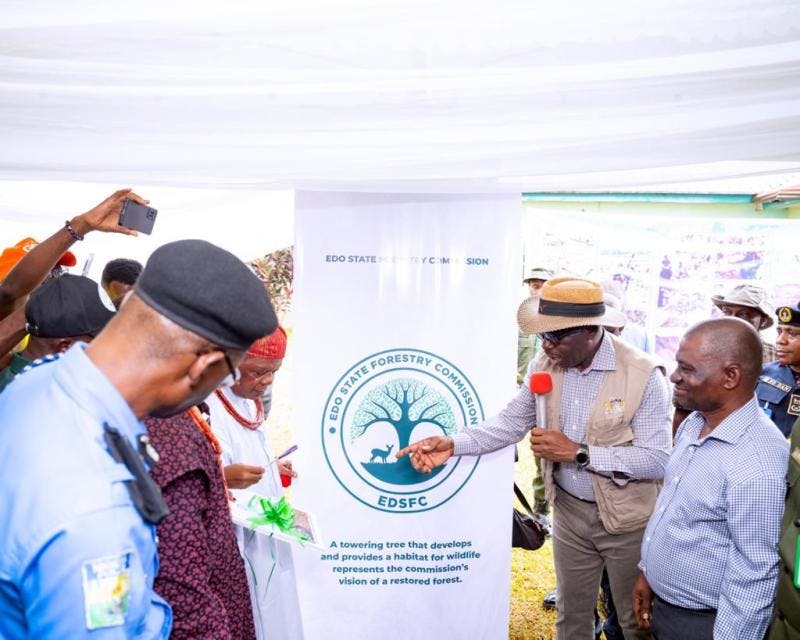 Obaseki continued, "I have signed the forestry commission bill and part of giving effect to the law is why we are here today to correct these setbacks we have suffered.
"We looked at the possibility of creating an institution to help us manage our forest and wildlife resources sustainably without mixing the issues of forestry with agriculture and other sectors and we came up with setting up a forestry commission to help us exclusively deal with our forest assets.
"I want to assure you that we have set up a very professional organization and we all can now be involved to regrow our forests that were lost. Over the next ten years, we must have a plan and we have articulated a strategy on what we must do for the reforestation and regeneration of our forests and fortunately, because of the partnerships we have throughout the world, we are glad that there is a lot of resources to support us."
Noting the economic benefits of the government's forest regeneration programme, Obaseki stated, "We were exporting timbers in the time past before the advent of crude oil, which resulted in the loss of the culture of sustainability. So, if we are to progress, develop, and diversify our economy, then we must go back to those things that made us great before.
"The forestry sector is attracting a lot of investors both locally and internationally, and development partners have been quite kind to us by opening their doors and we are working with them, especially in the areas of plantation establishment."
He added, "We are revoking all existing lot compartments and reissuing new licenses based on our new strategy and with this inauguration, all forestry activities in Edo henceforth are now domiciled with the Edo Forestry Commission.
"We will intensify actions at conserving our forests. We will get the Air Force involved, the Marine for land and Aerial Forces to smoke out all those people who are not supposed to be in our forest."
Earlier, the Conservator General, National Park Service, Ibrahim Goni, represented by the Assistant Conservator General, Dr. Mohammed Kabir said the inauguration and launch of the reforestation strategy is timely and apt.
He noted, "Okomu National Forest is one of the most cherished national parks in Nigeria and plays key roles in sustaining the environment and providing forest resources and habitat for wildlife.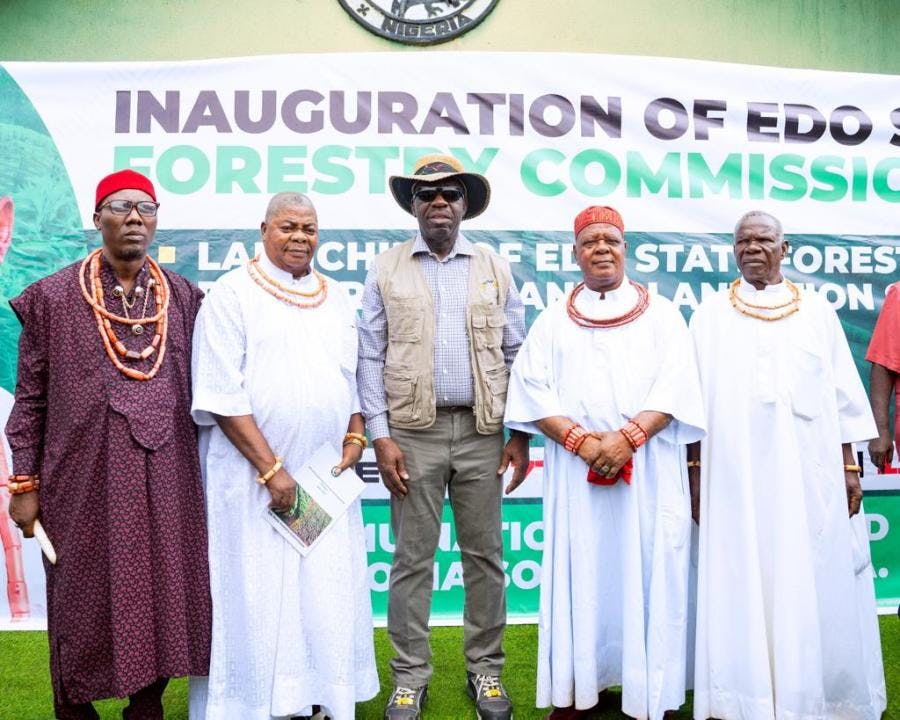 "This initiative will bring about a positive change and provide the necessary impetus for protecting the forest and the diverse plants and animals that depend on them."
The chairman of the Commission, Mr. Edward Obiaw, said the "Commission will facilitate proper utilization, preservation, protection, and harnessing of the state's forest and wildlife resources and the ecosystem."
Leave your comments below