The Edo State Governor, Mr. Godwin Obaseki, has warned against politics of lies, manipulation and blackmail, noting that politicians must begin to put in deliberate efforts to earn the trust of the people to win elections rather than rely on court judgments for political power.
Obaseki gave this advice during the inauguration of Senior Special Assistants (SSAs) and Special Assistants (SAs) in Edo Central Senatorial District, in Irrua, Esan Central Local Government Council.
The SSAs and SAs were drawn from Igueben, Esan West, Esan South East, Esan North East and Esan Central LGAs of the State.
Obaseki said, "One of the criteria used for this appointment is that you must reside in your wards and if not, we will withdraw your appointment. Any SSA or SA working outside the local government or operating from Benin City will be dropped immediately.
"You are supposed to give a report monthly which will be reviewed to improve the lives of the people. You are a very important plank of our administration.
"We have just gone through our local government election and you campaigned with me and I thank you for what you did, which made it possible for us to have achieved the results we achieved during the election."
On winning and losing elections by politicians, he noted, "I heard that some people are complaining that they lost the election. I wonder why they will win the election when they didn't come out to campaign. Well, that is the nature of our politics as they believe that the Court will appoint people into power. They rely on the Court for political power rather than hoping on the people for political power.
"Politics is being played on lies, misinformation, and rumours as a way to get political advantages. They want to confuse our people but your job is to put the record straight, letting the people know the truth.
"We have Chairmen and Councillors who will administer the local government councils but those we are swearing in today are officers responsible to the Governor of Edo State as your role is different from that of the local government.
"We have done a lot across the State, particularly in Esan land. EdoBEST has brought confidence in our children and we will be grateful in years to come. When these children will be occupying big and important positions across the world, we will appreciate the investment in education."
He added, "We have done a lot and tried to make changes in the progress of the State and your job is to let me know what is happening in your locality. We are working to ensure the wards across the State have first-class Primary Healthcare Centers as we are training health workers to man our primary health care centers.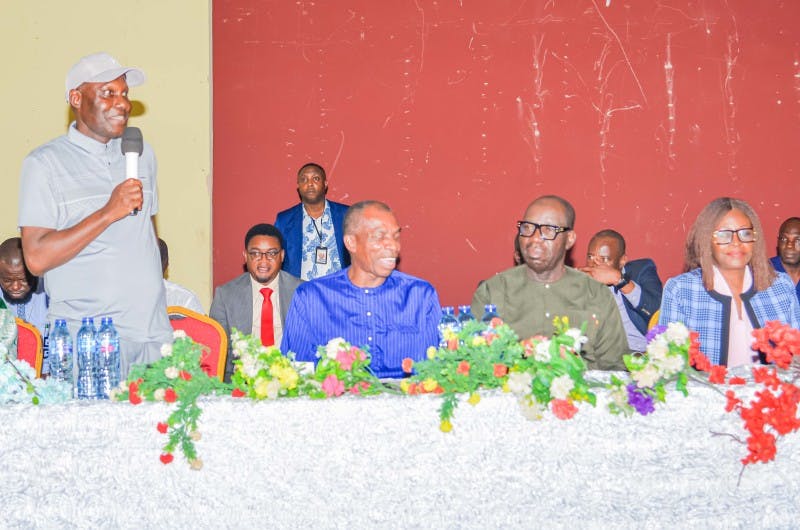 "I need to know what is going on in terms of security and creating economic opportunities for our young people. You must continue to keep us updated as you are the eyes and ears of the governor in the various wards you come from. We will train you and have an onboarding session with you in line with our government's vision to make Edo great again."
Leave your comments below