The Edo State Government has intensified efforts to end gender-based violence and all other forms of violence against persons in the state, taking sensitization on the Violence Against Persons Prohibition (VAPP) Law to various communities in the state.
The government, through the Edo Ministry of Social Development and Gender Issues, in collaboration with the Edo State Gender-Based Management Committee (GBV-MC), recently engaged with leaders and residents of Orhionmwon Local Government Area (LGA) to sensitize them on the provisions of the Violence Against Persons Prohibition (VAPP) Law aimed at eliminating violence against persons and other related acts from the state.
The one-day sensitization, themed, "Advocacy/Sensitization on the provisions of the VAPP Law across Edo," held at Orhionmwon LGA Secretariat in Abudu.
The forum had in attendance traditional rulers of various communities in the LGA, leaders of market women, leaders of various associations, people living with disability, among others. In her opening address, the Permanent Secretary, Ministry of Social Development and Gender Issues, Mrs. Barbara Osobajo said the engagement was aimed at ending gender-based violence and all other forms of violence against vulnerable people in the state.
She said, "We have convened this meeting to raise awareness among all of us here to tell you about the efforts that the government of Governor Godwin Obaseki is putting into the legal framework of the Violence Against Persons Prohibition (VAPP) Law and address the societal ills all over.
"We are looking at a society where everyone is empowered to reach their maximum potential and be able to thrive, and to let you know that there is a law in place that will help us fight this menace that we are all facing and the need to promote a more socially-inclusive society."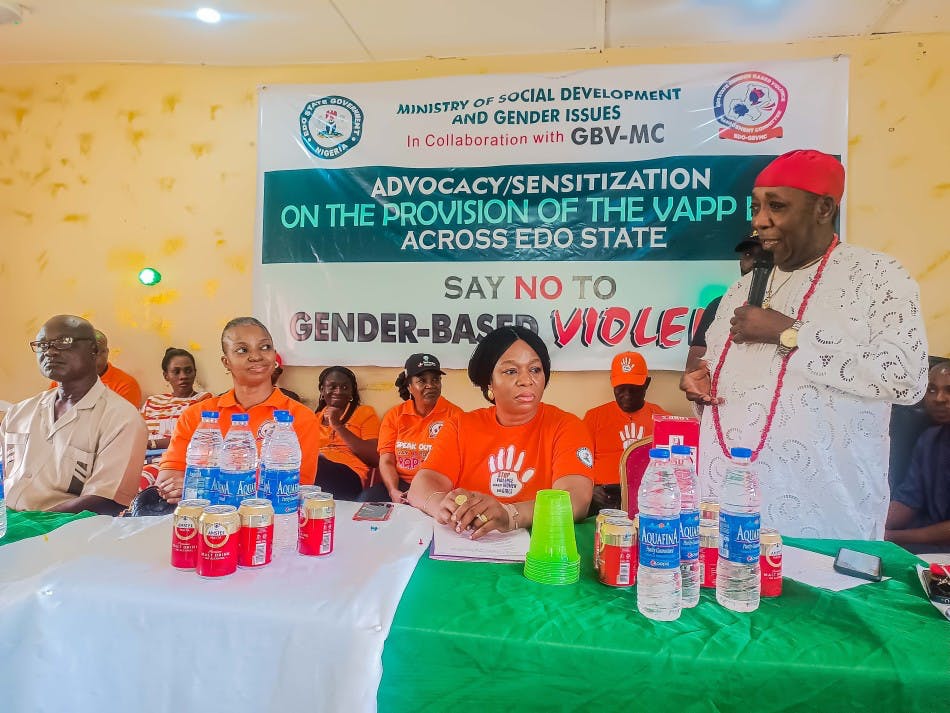 The Permanent Secretary further stated, "The VAPP Law 2021 addresses the issues of abuse, violation of human rights of all genders and not just women alone. The law is all embracing and our call today is to all of us who are seated and for us to take the message back home that it is our collective responsibility for us to make the contribution that will address the matters in the VAPP Law.
"We want everyone to have improved knowledge of the law, commit to this campaign and make our society free from all forms of violence, irrespective of the gender it affects. "We also require that anytime you see or hear about anything that is not right, particularly in the areas of abuse, do not keep quiet. It is your duty to report, call on those in charge and let them know what is happening."
"Your contributions will go a long way to strengthen the implementation of the law and make it useful," she charged.
On her part, Resource Perrson and member, Gender based violence management committee, Barr. Ulo Uzamere noted that the "VAPP Law has been established since 2015 and now every state in Nigeria has bought into this to prosecute perpetrators of violence against persons. It is no longer about familial settlement as it used to be as the government has stepped in to handle these issues.
"The VAPP Law contains among other provisions rape in any form which attracts life imprisonment for the perpetrators, while under-aged will face 12 years' imprisonment and those who aided the crime also have a certain number of years to be jailed. The issue of girl-child circumcision attracts 4 years of imprisonment, #500,000 fine or both.
"Some other provisions include forceful ejection from home (for couples) which attracts jail term of 2 years, #300,000 fine or both; economic abuse; forced isolation or separation from family and friends; abandonment; spousal battery and inhuman treatment of widows/harmful traditional practice."
Leave your comments below