…gov blames nation's declining health system for Ekweremadu's ordeal
The Edo State Governor, Mr. Godwin Obaseki, on Wednesday, got the commendation of Chief Medical Directors from across the country for his sustained investment in health and other sectors of the state's economy, acknowledging the governor as one of the best-performing governors in the country.
The governor got the commendation when he received the members of the Committee of Medical Directors in Nigeria, led by Prof. Emmanuel Bassey, Chief Medical Director of Uyo University Teaching Hospitals (UUTH), who were on a courtesy visit at the Government House in Benin City.
Acknowledging the governor's strides across all sectors of the State, Prof. Bassey commended Governor Obaseki's sustained investment and commitment to repositioning the healthcare sector, especially in strengthening the primary healthcare system in the State.
The Chief Medical Director noted, "We are not a political committee but a policy and advocacy group. We meet to deliberate and advocate for effective and sustainable policies, especially on tertiary healthcare of the country. We thank you for the support given to the Edo State healthcare system.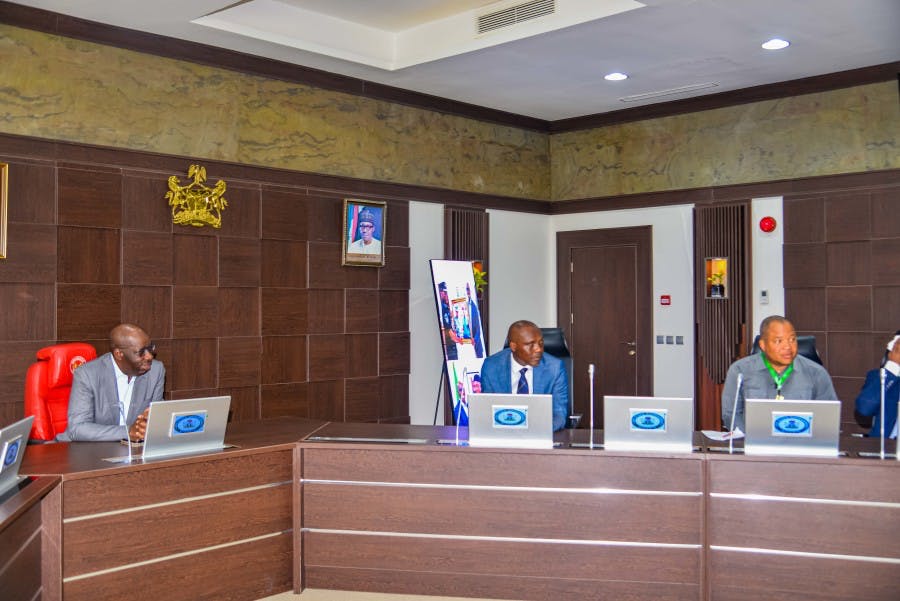 "We want to thank you for your strides in the healthcare delivery system. We thank you for strengthening the primary healthcare system in the State as without that foundation we cannot get tertiary healthcare as most of the challenges we face would have been solved in the primary healthcare centres."
He said, "You are very strong in healthcare financing and we thank you for the Edo State Health Insurance Scheme. We thank you for the support for the University of Benin Teaching Hospital (UBTH) especially during the COVID-19 era as 60 percent of COVID-19 testing was done in UBTH."
Prof Bassey added, "We really want to thank you. We have not much to say but the truth is that you are one of the best-performing governors in this whole country, politics aside. We wish you the best in your future endeavors."
In his response, Obaseki, who reaffirmed his government's commitment to strengthening the state's healthcare system, blamed the ordeal of former Deputy Senate President, Senator Ike Ekweremadu on the nation's decaying health system.
Expressing sadness over the event, Governor Obaseki said it is worrying that Nigerian politicians have failed to provide a quality healthcare system for its people, adding, "If we don't strengthen our healthcare system, we are all at risk. We need to collaborate to build a resilient healthcare system for the benefit of our people."
He charged, "Those who have the privilege of working at the federal level should help us pull the system to the level it should be."
According to him, "UBTH has been producing doctors for over 50 years and during COVID-19 when we needed doctors, we found about 5, 000 of them. If we have the core building blocks, which are the doctors, nothing should hold us back.
"We have been producing doctors and exporting them abroad in the last decades. What went wrong? We would not have succeeded in our medical profession if we left it worse than we met it."
Leave your comments below