…breaks Ramadan fast with Otaru of Auchi
The Edo State Governor, Mr. Godwin Obaseki, has admonished politicians across the country to work fervently to unite Nigeria and not make utterances or take actions that are capable of dividing the country along ethnic and religious lines.
The governor made the submission when he broke the Ramadan fast with His Royal Highness (HRH), Alhaji Aliru Momoh Ikelebe III, the Otaru of Auchi Kingdom in his palace in Auchi, Etsako West Local Governments Area of Edo State.
Obaseki was accompanied on the visit by his Deputy, Rt. Hon. Comrade Philip Shaibu; Chief of Staff to the Governor, Hon. Osaigbovo Iyoha; Commissioner for Trade and Investment, Afishetu Braimoh and the People Democratic Party (PDP) Deputy National Youths Leader, Timothy Osadolor, among others.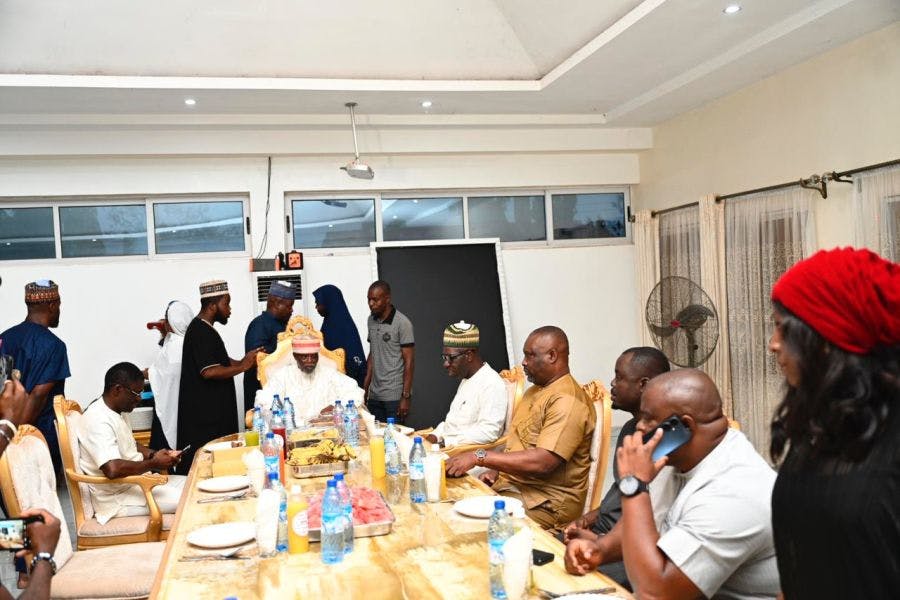 The governor maintained that the role of leaders is to overcome challenges and give hope to the people.
According to him, "Our presence here tonight shows that we do not see any religious divide. We are Christians and are here to fellowship with Muslim leaders. Religion can't and should not be a basis to divide us as a people. We should understand that those playing the religious card are doing so for very selfish reasons.
"People of different faiths live in this country as one and interact as one. We do our businesses together as we don't ask for religion or ethnicity when we do our businesses in the marketplaces but rather trade and transact to get a fair deal out of that."
He queried, "Why is it that when it comes to politics, we want to begin to emphasize our differences and divisions which are unreal?"
Obaseki continued: "I agree with the elder statesman and former President of Nigeria, Chief Olusegun Obasanjo that as leaders, we need to do more to unite people and get them to see that the issues in Nigeria are beyond ethnicity and religion.
"It is about good governance, about responsible leadership and holding people accountable when they have duties or responsibility to perform."
On the Ramadan fast, the governor said, "It is a significant week, a holy week. We are heading towards the last 10 days of the Ramadan fast, which is supposed to be the holiest days of Ramadan.
"It's an unusual coincidence which doesn't happen often but there must be a significant reason that God made it possible for us to celebrate the period of Lent and Ramadan overlapping each other.
"As citizens of the State and Nigeria, we must understand the presence of God in our affairs as a State and a Nation at this point in time. It calls for sober reflection and prayers. We have kept this tradition for over six years whereby we come here to break the Ramadan fast with His Royal Highness, the Otaru of Auchi who is the head of Muslims in Edo State."
Leave your comments below