The Edo State Governor, Mr. Godwin Obaseki and the Minister of Health, Dr. Osagie Ehanire at the weekend inaugurated the South-South Zone Traditional Leaders' Committee on Primary Health Care (PHC) delivery to strengthen efforts at improving health systems and access to quality and efficient health care services in the region.
The committee was inaugurated at the Government House in Benin City, the Edo State capital.
Governor Obaseki, represented by the Permanent Secretary, Edo State Ministry of Health, Dr.Stanley Ehiarimwian, reaffirmed the state government's commitment to building a resilient, efficient and quality health system, urging the collaboration of all stakeholders, including traditional rulers.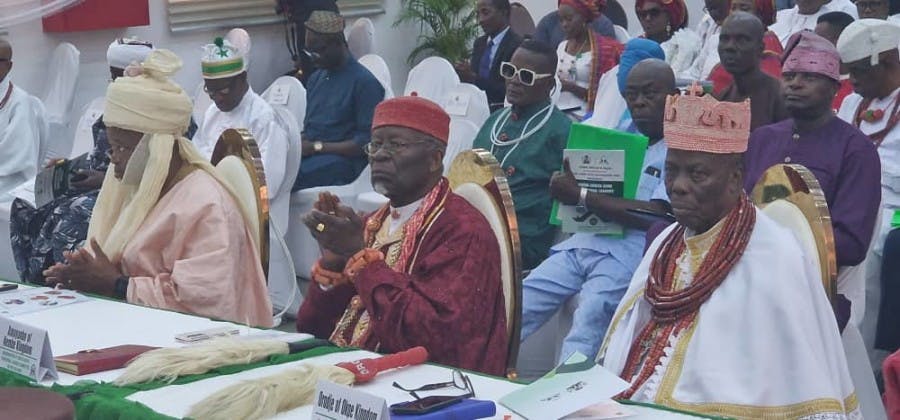 According to him, "South-South traditional leaders' council on PHC delivery which is a partnership between the government and traditional leaders seeks to improve the health indices of our country from the grassroots which is where it is most needed but still lacking.
"I am optimistic that with the involvement of our royal fathers, the narrative will change. The traditional leaders have been doing a lot in healthcare and this is a clarion call to double their efforts as the government can't do it alone."
The governor, while reiterating the importance of community engagement and participation in primary healthcare delivery noted, "The healthcare sector in Edo State has witnessed transformative reforms. This is evidenced with the state's recent clinching of over N185 million naira as the first runner up in the zone in the PHC leadership challenge. This fund will be used judiciously to improve PHC.
"Several healthcare centers are being built in the State with sections of recruitment and training of healthcare workers in the State where over 300 workers have been recruited. We will continue to fill personnel gaps to improve quality of care in the primary healthcare space. Another giant stride in this administration is making sure that at least one functional primary healthcare centre in each of the 192 wards in the state."
On his part, Ehanire said, "It's time for community leaders to demand their own standards. Primary healthcare centers from state and local governments can take care of 60 to 70 per cent of all illnesses. Demand for it, ensure it's given to you as an election promise functioning in the ward."
He continued: "This event marks an important milestone in our efforts to expand and strengthen delivery of health care services to all citizens particularly here in the South-South and also extend the same to the grassroots level.
"The Primary healthcare is, with no doubt, the bedrock of any functional healthcare delivery services being the citizens' first point of contact in the nation's healthcare system. Up to 60 to 70 percent of problems that drive people to seek healthcare can be provided in the primary healthcare centre if well organized. That is the platform to deliver basic, preventive, curative, rehabilitative healthcare to communities.
"Nigeria has made significant progress in recent years in improvements of primary healthcare services, especially with the revitalization of more primary health centres. We have a lot of work to do where access to healthcare services is still a change."
The Minister added, "I am confident that the traditional leaders we have inaugurated today will harness the knowledge and experience in community mobilization and health promotion, disease prevention and surveillance to improve the interest and trust in the primary healthcare services in the South-South zone in particular and Nigeria at large."
His Royal Majesty, Oba of Benin, Omo N'Oba N'Edo Uku Akpolokpolo, Ewuare II, who is also the Chairman of the Committee in Edo State represented by the Obasogie of Benin, Amb. Chief Judge Ekhator, said the committee would work effectively to deliver on their mandat
Leave your comments below