…assures partnership with UBTH to transform Edo into hub for medical tourism
…Yakubu Gowon hails Obaseki's investment in health sector
The Edo State Governor, Mr. Godwin Obaseki has called for a more dynamic and functional model to finance tertiary institutions in the country, particularly health institutions through robust partnerships and collaborations with the private sector, so as to strengthen the healthcare system.@ and ensure quality healthcare delivery to citizens.
Obaseki made the call at the Golden Jubilee Celebration of the University of Benin Teaching Hospital (UBTH), held at the institution's compound, in Benin City, with the theme, "Advancing the Legacy of Quality Healthcare."
In his opening remarks, Obaseki reaffirmed his government's commitment to ensuring a resilient health system to deliver quality, efficient, and affordable healthcare services to Edo people, urging for the collaboration of the private sector.
The governor said, "I want to reiterate the call for a more dynamic and functional model for financing tertiary education institutions in Nigeria through robust partnership and collaborations with the private sector."
According to him, "In order for us to build a sustainable and resilient healthcare system, emphasis must now be focused on health financing. Government alone can no longer carry the bulk of the cost of providing healthcare services particularly when there are now more private providers of healthcare services than public providers like UBTH.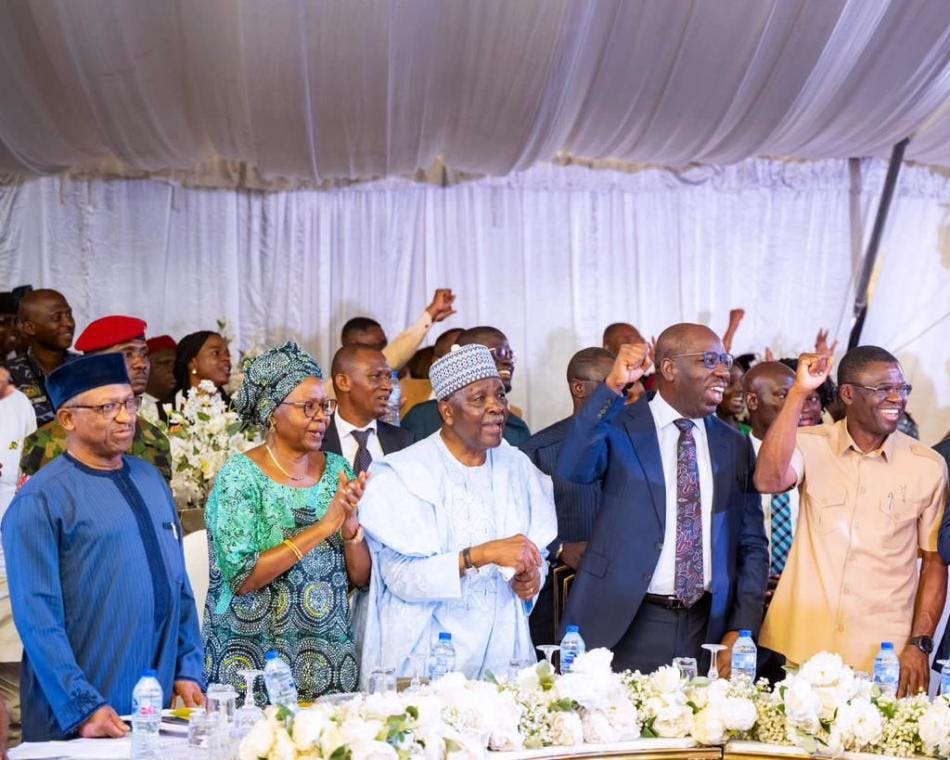 "This is why we in Edo State have established a compulsory health insurance scheme and in addition, we are investing in infrastructure and strengthening our primary healthcare network while improving the institutions where we train our healthcare personnel like our nursing school and institute of health technology.
"Our healthcare strategy in Edo State is to emphasize our function as a government which is to regulate the healthcare system and practitioners of the healthcare system in the state."
He added, "These activities will go a long way to help strengthen the structure of healthcare in Edo whole we take advantage of the existence of UBTH as a foremost research and training healthcare institution in this area."
Obaseki while hailing the staff and management of the teaching hospital for their unwavering commitment to providing high-quality healthcare services to the people of Edo State and Nigeria in the past fifty years, assured of the government's sustained collaboration with the federal government-owned institution.
He said, "UBTH has expanded rapidly from its inception to pioneer innovations with medical research and has ensured they lived up to their obligations and advanced the aims and visions of its founding fathers and has provided high-quality healthcare teachings to medical students and trained some of the best doctors who continue to make tremendous impact in medicine globally.
"It is therefore laudable that in the last half a century, UBTH has become a key pillar in our healthcare ecosystem in Edo State by serving the healthcare needs of our people and Nigeria at large, providing hope for those with life-threatening conditions."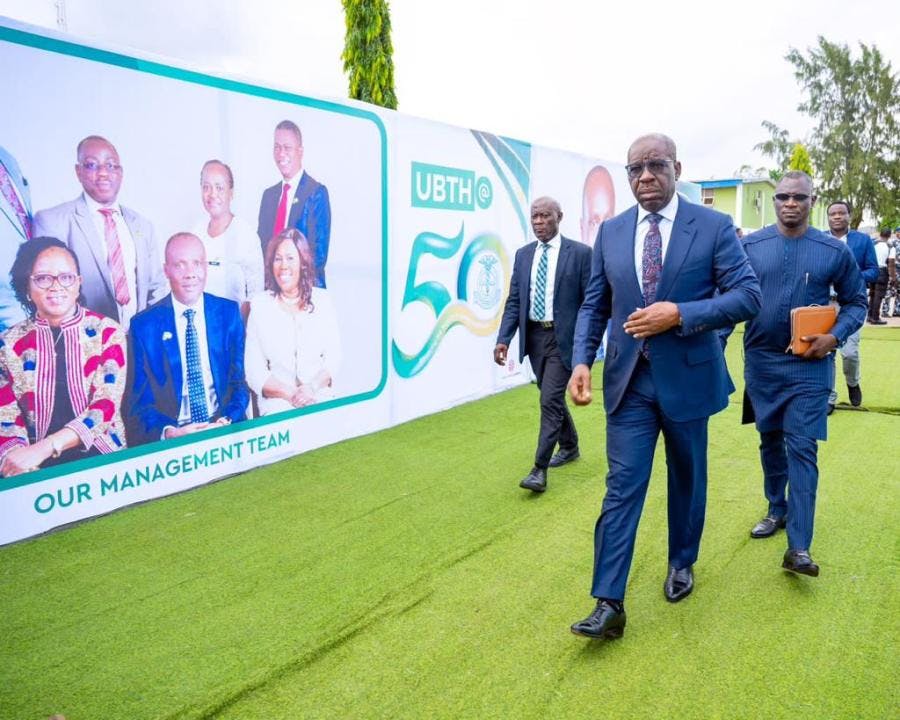 He added, "During the COVID-19 pandemic, UBTH played a vital role in firming up our response mechanism by providing the necessary human and institutional support for preemptive and effective service as well as programmes to ensure that they can respond adequately in times of emergency so that members of the public are protected and get the necessary support to survive deadly pandemics.
"I hope that by working closely together, we will achieve our aspiration of becoming the main hub for medical tourism before the next 50 years."
Oh his part, Minister of Health, Dr. Osagie Ehanire said, "UBTH, strategically located between the Eastern and Western border gives this hospital a central role in the national strategy to build a resilient health system by ensuring availability of critical services within reasonable travel distance.
"It has built up its excellence and reputation in cancer treatment, sickle cell anaemia, first line of defense against pandemics, bone marrow transplant, training of paramedics and a cradle of quality education for medical doctors and nurses as well as a referral and treatment centre for other health facilities."
He further noted that "the President has approved the setting up of a National Fistula Hospital in Edo and a National Orthopedic Hospital in Benin City that will be affiliated with UBTH and has also set up a National Emergency Medical Service and Ambulance System nationwide to respond to emergencies."
Also, the Chief Medical Director, UBTH, Prof Darlington Obaseki in his welcome address noted that "UBTH was created among other purposes to provide specialist healthcare services to residents of the region, train manpower and pioneer cutting edge research."
He added, "Today UBTH has achieved so much that we became the first public hospital to perform an In-Vitro Fertilization (IVF) and attend to more than 1000 patients and 50 emergencies daily. These laudable achievements have not been without challenges but we are convinced that every difficulty comes with potential for growth and learning."
On his part, the chairman of the occasion and former Head of State, Gen. Yakubu Gowon commended the governor for his investment in Edo's health system, adding, "I want to appreciate the state governor and all others for investing in the success of UBTH.
"This is a significant milestone not just for Edo State, but for the whole of Midwest and the nation as UBTH has been a cornerstone for healthcare in the past five decades.
"UBTH has been at the forefront to provide world-class healthcare and training of the next generation healthcare providers. You have exceeded our expectations and become a beacon of hope."
Leave your comments below